Upcoming Events
Headspring Events
Our events offer a global perspective on business trends and learning design to senior decision-makers. Join our selected community of thought leaders and take part in debates and workshops – face to face and online!
Placing the Employee at the Centre of Critical Business Decisions.

Date: 8th June 2022 | 09:00 - 17:45 GMT+1
Register Now →
The Global Boardroom returns to debate the most effective strategies for policy-makers, CEOs and investors as the recovery from the pandemic moves into a new phase.

Date: 7-9th June 2022
Register Now →
Virtual L&D Conference
Learning XChange
As we emerge on the other side of the pandemic, our virtual summit is back with a laser focus on Purposeful Leadership and how HR and L&D professionals will have a pivotal role to play in building and supporting new leadership qualities.
2020: The future of Corporate Learning
Learning Xchange 2020 hosted leading experts, practitioners, and horizon-readers, who gathered to share the latest intelligence and emerging insights in learning, development, and adjacent fields.
Catch up on demand
Past Events
Headspring Talks: Leading Speakers, Leading Insights
"Being human is the only thing that cannot be commoditised"
Watch on YouTube →
Innovation can only be hindered by rules that stop people from being innovative.
Watch on YouTube →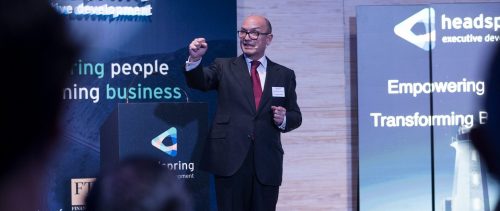 The President of IE University delivered an inspirational talk at Headsprings conference on AI
Watch on YouTube →
Past Events
Events Gallery