Upcoming Event
CLO & CHRO Roundtable 2020
Recent research among Chief Learning Officers globally shows that every organisation is transforming the way they deliver development programs.
Headspring is hosting a Virtual CLO Roundtable to discuss how Covid-19 has changed the landscape surrounding and including virtual leadership development, and what the new, more digital, normal will entail.
When: 28 September, 10.00 to 11.30 (CET)
Network
Learn and collaborate with leading HR and L&D decision-makers
Learn
Bring your own challenges to the table. Discover and experiment.
Co-create
Bring concepts to life and turn insight into action at your business.
Register Now
Webinars
Headspring Virtual Masterclasses
Develop and immerse yourself and your teams with our latest virtual masterclasses. Our videos offer a global perspective on business trends and learning design to senior decision-makers.
8 October 2010 | 10.00 - 11.30 (CET)
Learn More →
14 October 2020 | 10.00 - 11.30 (CET)
Learn More →
Past Events
Headspring Talks: Leading Speakers, Leading Insights
"Being human is the only thing that cannot be commoditised"
Watch on YouTube →
Innovation can only be hindered by rules that stop people from being innovative.
Watch on YouTube →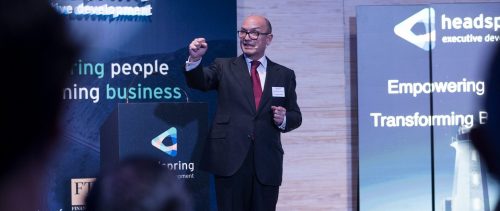 The President of IE University delivered an inspirational talk at Headsprings conference on AI
Watch on YouTube →
Past Events
Events Gallery