Upcoming Webinar
How to Create an Effective Learning & Development Strategy for 2021
Learn how HR and L&D leaders can position the organization and upskill the people to adapt and thrive in 2021.
Is your training strategy set for the new environment? Are you looking for practical advice on how to upskill your organization for a future of uncertainty?
Join us with Angela Lane and Sergey Gorbatov who are both practising senior executives in talent management for an interactive session and hone your thinking ahead of 2021. They have recently published a short article in Training Industry titled 9 Capabilities to Invest in Now, which they will discuss in the session.
This session will:
– Explain what are the key challenges for 2021
– Provide examples of how companies are navigating these turbulent times
– Give you a diagnostic tool to evaluate the greatest area of opportunity in your organization
– Give you a checklist guide towards execution
Date: Thursday, 10 December | Time: 13.30 – 14.30 CET
Secure your place
Featured Webinar
Leadership Skills Series: Making the Business Vision Stick
Learn how leaders can set their business apart and take the vision to the next level.
The most important role that the leaders in your organisation can have is to create the vision to empower your people and create value.
The challenge is to create a vision that sticks, while also motivating and changing behaviour.
In this session, you will learn how to ensure that your vision drives three behaviours and mindsets:
– Engagement: Involvement in creating or sharing the vision.
– Growth Mindset: Vision helps the teams potential.
– Pride: The team help deliver the vision.
Watch on-demand now!
Watch on Demand
Previous Masterclasses
Watch Great Content on Demand
Develop and immerse yourself and your teams with our latest virtual masterclasses.
Thought Leadership Videos
Headspring Talks: Leading Speakers, Leading Insights
"Technology is becoming cheaper. Being human is the only thing that cannot be commoditised"
Watch on YouTube →
"Innovation can only be hindered by rules that stop people from being innovative."
Watch on YouTube →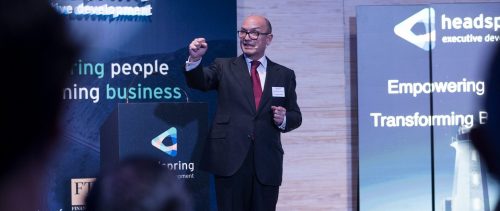 The IE University President talks on lifelong learning, executive education and the power of teams
Watch on YouTube →