Upcoming Webinar
From Surviving to Thriving, From Mental Health Pressure to Performance
Learn how to survive and stay motived to thrive in the times of turbulence
Getting ready for 2021 – How not just to survive but stay motivated and thrive in the Pandemic.
While many business were surprised at how much they achieved during the first wave of remote working due to COVID-19, they are now faced with growing levels of (ZOOM) fatigue and employee overwhelm.
Collectively we are wondering how to deal with the 'long middle' of disruption and its after-effects, how to refocus, re-energize and find purpose in 2021, as we have to navigate further into new ways of doing things.
Amongst other things, participants of this webinar will find out about:
– The Stockdale Paradox – and how being either too optimistic or pessimistic in times of uncertainty can get you killed
– What to focus on for yourself and your team in the coming months to stay motivated and energised
– Some surprising statistics about how men vs. women are coping with the current mental health pressures and how important recovery is for performance
– How to move from merely surviving to possibly thriving in the coming months by employing an 'Organisational Growth Mindset' as well as modern motivation triggers like Autonomy and Purpose
Date: Tuesday, 01 December | Time: 10.00 – 11.00 CET
Secure your place
Featured Webinar
Leadership Skills Series: Making the Business Vision Stick
Learn how leaders can set their business apart and take the vision to the next level.
The most important role that the leaders in your organisation can have is to create the vision to empower your people and create value.
The challenge is to create a vision that sticks, while also motivating and changing behaviour.
In this session, you will learn how to ensure that your vision drives three behaviours and mindsets:
– Engagement: Involvement in creating or sharing the vision.
– Growth Mindset: Vision helps the teams potential.
– Pride: The team help deliver the vision.
Watch on-demand now!
Watch on Demand
Past Webinars
Watch Great Content on Demand
Develop and immerse yourself and your teams with our latest virtual masterclasses.
Thought Leadership Videos
Headspring Talks: Leading Speakers, Leading Insights
"Technology is becoming cheaper. Being human is the only thing that cannot be commoditised"
Watch on YouTube →
"Innovation can only be hindered by rules that stop people from being innovative."
Watch on YouTube →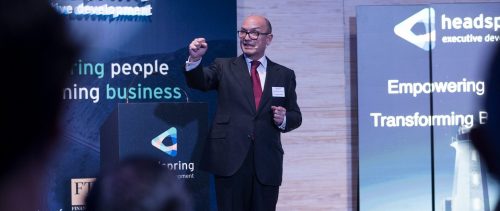 The IE University President talks on lifelong learning, executive education and the power of teams
Watch on YouTube →