Upcoming Webinar
Diversity, Digital & Data: The 3 Keys to Innovation
Learn how to embrace the mindset and build the capabilities needed to drive digital transformation and sustain innovation.
In the session we will look at how organisations can leverage diversity, data and technology to create the right culture for businesses to thrive as well as the challenges encountered and how they are dealt with on the path to digital transformation.
The speakers will share their personal experiences and up-to-date case studies of how businesses are navigating the rapid pivot to digitalisation and what it takes to succeed.
Lyndsey Jones, an executive editor at the FT, and Balvinder  Powar, an Adjunct Professor and business mentor, are co-authors of the forthcoming book "Going Digital: What it takes to make the change" to be published by Pearson and FT Publishing next year.
Join us to learn and move forward together
Date: Tuesday, 6 October | Time: 10.00 – 11.00 BST
Secure your place
Featured Webinar
The Three Conditions for Success
One of the most important roles that the leaders in your organisation can have is to create the conditions that enable your teams to deliver success.
They cannot micromanage their way to long-term success. They need to grow, empower and inspire your teams to deliver. In this session, you will learn the three conditions that leaders need to create in order to empower teams:
– Clarity: taking action
– Judgment: making decisions
– Influence: true collaboration
Live Broadcast Date: 18 August, 10am BST
Watch on-demand now!
Watch on Demand
Past Webinars
Watch Great Content on Demand
Develop and immerse yourself and your teams with our latest virtual masterclasses.
Thought Leadership Videos
Headspring Talks: Leading Speakers, Leading Insights
"Technology is becoming cheaper. Being human is the only thing that cannot be commoditised"
Watch on YouTube →
"Innovation can only be hindered by rules that stop people from being innovative."
Watch on YouTube →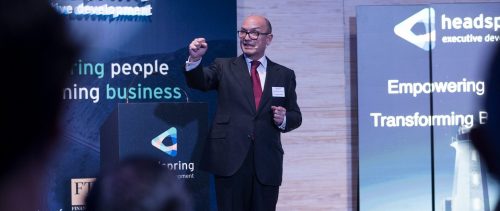 The IE University President talks on lifelong learning, executive education and the power of teams
Watch on YouTube →