Featured Webinar
From Senior to C-Suite: Unlocking the Secrets to Career Growth
Careers don't just happen. Success comes from intentionally adopting career behaviors that anyone can master. In this session, you will reflect on simple, yet hard, questions about your personal definition of success, career direction, or your own ambition.
Guest Speakers: Dr. Sergey Gorbatov | Angela Lane
Watch on Demand
Featured Webinar
Business Recoded: How to Shape the Organisation of the Future
Covid-19 has dramatically shaken up markets, and accelerated change in every industry: the opportunities of new technologies, the shifts in power, the rise of new generational values, the challenges of social and environmental issues.
This session will explore the latest book "Business Recoded: Have the courage to create a better future" from Peter Fisk – acclaimed global thought leader, bestselling author and inspiring speaker.
Guest Speaker: Peter Fisk
Watch on Demand
Previous Webinars & Masterclasses
Watch Great Content on Demand
Develop and immerse yourself and your teams with our latest virtual masterclasses.
Thought Leadership Videos
Headspring Talks: Leading Speakers, Leading Insights
"Technology is becoming cheaper. Being human is the only thing that cannot be commoditised"
Watch on YouTube →
"Innovation can only be hindered by rules that stop people from being innovative."
Watch on YouTube →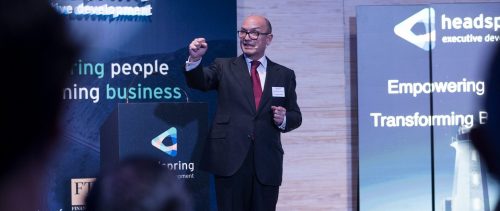 The IE University President talks on lifelong learning, executive education and the power of teams
Watch on YouTube →